SEMYON KOBIALKA - CELLOBOY7
Greetings and salutations! Thank you for checking out the internet home of my musical projects.  My name is Semyon Kobialka, aka "celloboy7" (it's just easier to remember than my name), and as the nickname suggests, I am a cellist.  
I come from a family of musicians and have been playing music for as long as I can remember.  My first instruments were violin and piano, which happen to be the same instruments that my parents play with great expertise, and I studied for several years under their watchful eyes and ears.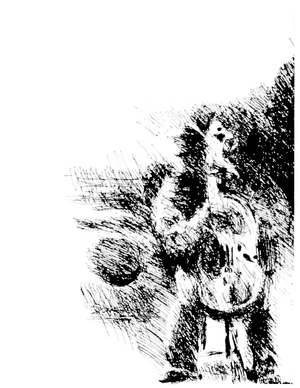 One might think that type of environment would lead to wondrous, magnificent outpourings of music and harmony everywhere... if that's the case, then you may not be familiar with the temperamental nature of musicians.  Or the extreme stubbornness found in every member of my family.  My parents pushed me to play music, which drove me crazy so I pushed back, which in turn drove them crazy.  It was contentious.  Wills were tested.  Instruments brandished and thrown.  During the occasional moments of calm, music was made.  But for the most part it was an everyday confrontation until I finally managed to convince them that they should let me quit.  I'm not proud of the various methods used that lead to their capitulation, but in the end I emerged the victor in my long war against practicing piano and violin.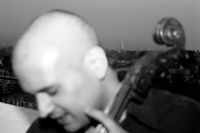 I was 8 when I pulled off that miracle. I truly thought the way was cleared for my development into an  astronaut/baseball player/giant robot pilot.  I was going to learn ninjutsu!  Little did I suspect that my parents were about to outmaneuver me and reunite me with music without any fighting.  When the school year began, I was handed a cello and had my first lessons at St. Cecelia's School in San Francisco.  Maybe it was the fact that I was taught those first few lessons by a nun as opposed to my parents, or maybe it was just my early recognition that the cello is the greatest instrument ever created.  I can't really tell you why it stuck, but I've had my cello with me ever since then.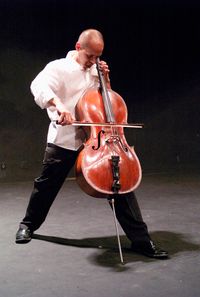 I have had many amazing teachers since then, and I've had a fun journey with the cello over the years.  I did all of the usual things that young classical musicians in  the San Francisco Bay Area do, attending the Conservatory and Youth Orchestra, etc..  In high school I ended up in jazz band playing electric bass, which got me hooked on improvising and playing different styles of music.  I played bass in a fusion band in New York in college, and after college I brought the cello into the non-classical world, playing cello as an equal member in a 4 piece rock band.  We chased after the rock star dream together, had a great run that resulted in several albums and memories of shows that still make me smile when I think about them.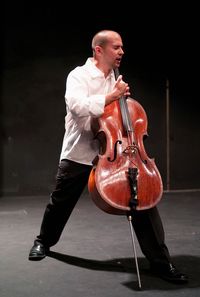 At the same time I was also messing around with a method of playing the cello like a cross between a bass and a guitar, which was something I started using in college to help communicate chordal ideas to musicians who do not read notation.  It's not the easiest technique to pull off and it took years before I could find any freedom using it, but it led me to try my hand at songwriting when I got good enough that I could strum the cello like a rhythm guitar and sing on top of the chords. I ended up releasing two albums showcasing that technique with the support of Duckhole Records,
"Wabi Sabi"
and
"Miracle Mile"
. 


Since those two albums came out, I've been all over the place.  I traveled up and down the Pacific Northwest coast gigging to support the albums.  I've worked with a fantastic theater company that has worked together for over 20 years, trying to figure out a way that my abilities with the cello could keep up with them and add to the show.  I've recorded with dozens of songwriters crafting cello-centric string arrangements for their songs.  I even recorded an album with my father, Daniel Kobialka (
www.wonderofsound.com
), presenting some of the great American melodies from the Civil War era -
"
American Classics-Parlor Music Revisited
".

And now, after 2 years in the making, I am happy to announce that my collaboration with the poet Doraine Poretz entitled "An Occasion For Being" is finally ready to be released!  
http://www.amazon.com/Occasion-Being-Doraine-Poretz/dp/B017S66DT0/ref=sr_1_1?ie=UTF8&qid=1450915793&sr=8-1&keywords=Doraine+Poretz+and+Semyon+Kobialka+An+Occasion+for+Being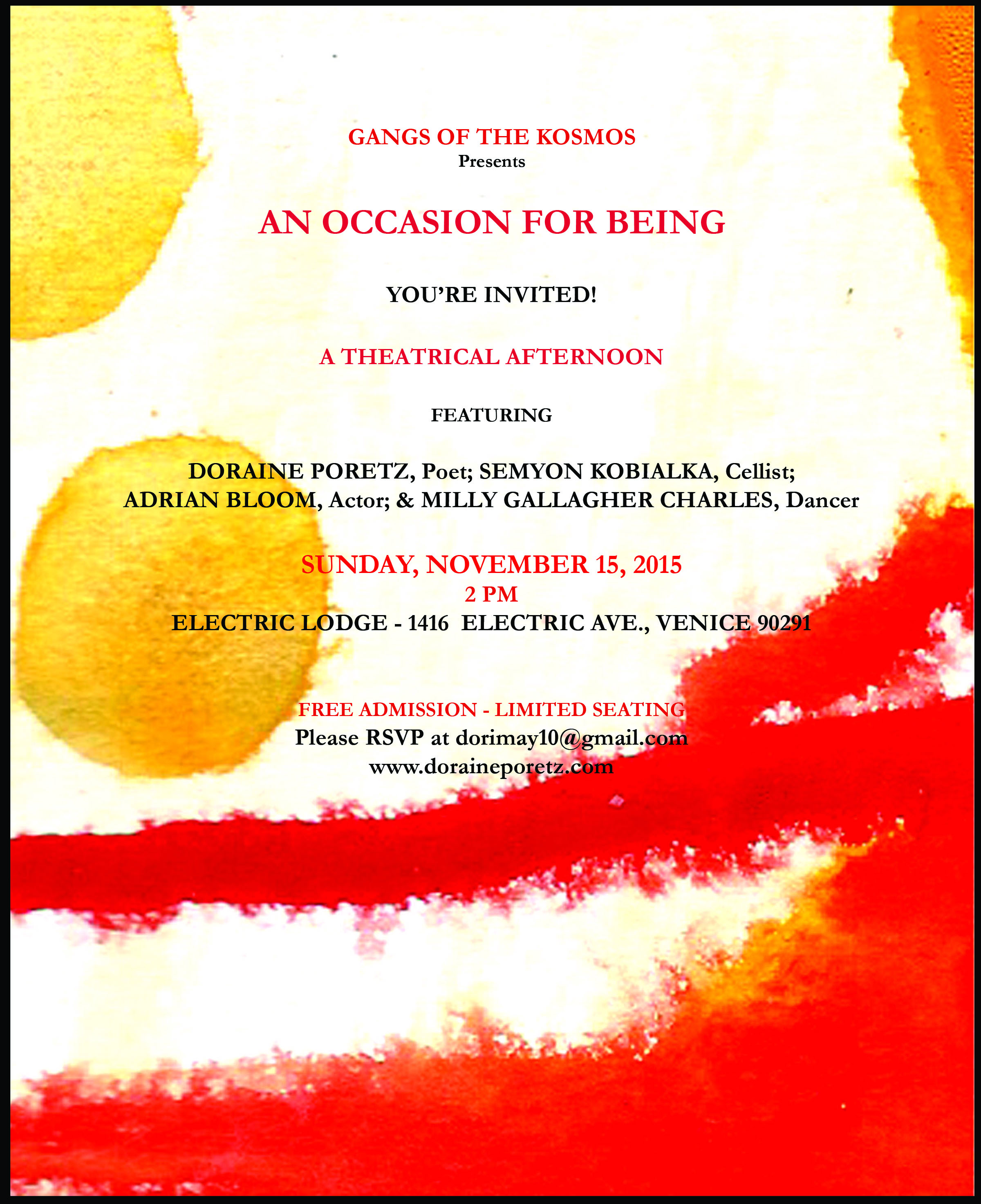 Doraine is a fantastic poet and I had the privilege and challenge of trying to match the cello with her poems and the feelings her words evoke.  Doraine performed the poems live and I improvised the musical accompaniment, whether it was with a bow or using just my hands to produce the sounds.  In some cases that duo improvisation is the full arrangement, and for other poems I created larger orchestrations with multiple parts that built upon the live performance at the core.
In the end the collaboration is a sort of poetry book / CD featuring over 20 poems, the majority of which have my cello-centric music accompanying The Poet.  More information about where to purchase the CD will be added and we make it available in the usual places (iTunes, Amazon, etc.) - I highly suggest purchasing a physical copy of the CD if possible because Doraine and her talented artist friends put together a fantastic poetry book-CD insert with artwork and all of the poems so that you can read along with the CD.
After the release of An Occasion for Being, it will be time for 2016 to begin, and I have big plans for the year.  Big plans, but also unusual plans... more to follow soon.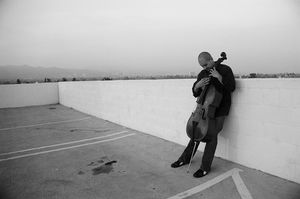 Thanks for your time and attention,
- Sem -